| | |
| --- | --- |
| | |
There are many pages devoted to the timely Doctor, and this will be only a minor one. We have been fans for several years, viewing the historic BBC sci-fi icon as far back as the early 1970s (although it first aired in Britain in 1963), when we first were entertained by the film version with Peter Cushing. In fact it took several years more before we were once again treated to the Time Lord when the Bellingham station (KVOS) ran the program, albeit at extremely odd hours! Several times the channel tried to remove the program only to be blasted by fans from the area until they gave in once again and agreed to keep it on. Eventually, it became nigh impossible to make any sense out of the programming which seemed to come on whenever the Powers That Be felt like putting it on, and totally mixed up in order of presentation.
In the end, the station won. That said, we did eventually locate the program on the Space Station in Canada (which kept us somewhat happy for awhile), but have not seen anything available in our area recently. As any of you other fans already know, the Doctor regenerates every so often and has to date regenerated 7 times (bringing the total to 8 Doctors so far), leaving him 5 more lives according to the original premise that he could regenerate only 12 times. In "Trial of a Time Lord", however, the Sixth Doctor (Colin Baker) met his presumably 13th regeneration, the Valyard, on Gallifrey.
Now we wait for the next television incarnation, scheduled for this Spring on the BBC and debuting in Canada on CBC (APRIL 5, mark your calendars)! Ads and trailers are already showing up on CBC. The Ninth Doctor will be played by Christopher Eccleston. For further information, check the links below.

Here's a little Who fun we cooked up:
| | |
| --- | --- |
| Click on photo | |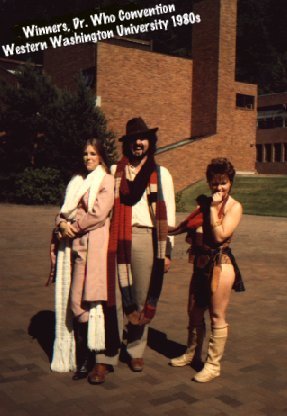 The incarnations of the Doctor to date:
William Hartnell -- The First Doctor (1963-1966)
Richard Hurndall -- The First Doctor (1983) in the episode "The Five Doctors"
for the 20th Anniversary.
Patrick Troughton -- The Second Doctor (1966-1969)
Jon Pertwee -- The Third Doctor (1970-1974)
Tom Baker -- The Fourth Doctor (1975-1981)
Peter Davison -- The Fifth Doctor (1982-1984)
Colin Baker -- The Sixth Doctor (1984-1986)
Sylvester McCoy -- The Seventh Doctor (1987-89,1996)
Paul McGann -- The Eighth Doctor (1996)
Christopher Eccleston -- The Ninth Doctor (2005-)

Just a few sites I've found:


This page has been accessed
times
Counter by Museum of Counter Art

Created & maintained by Betty March 7, 2005