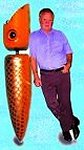 graphic by
Ross McDonald

Salmon Plugs of the Pacific Northwest
and Other Antique Fishing Tackle

Feature article: The Derby Plug

The History of Salmon plugs and having my own reference guide over the past 20 years has added that extra enjoyment to my collecting. I have been fortunate to have many friends in the hobby. Many have asked for identification and help in selling plugs they have come across; one was a load of Masons, a win-win deal except I am still waiting for the picture of the Masons for my reference, fair enough for my help. I have tripled my reference by sharing resources with my American friend Mike Damery of Colfax, WA. We both have agreed to help identification of Salmon plugs for collectors and the public. We ask you to e-mail a picture, preferably showing at least two positions, and what you know of the history.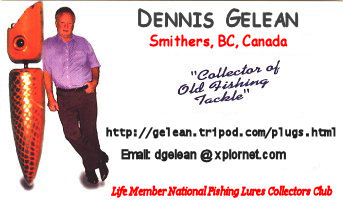 I have been collecting antique fishing tackle for a number of years, beginning with my own tackle I used as a boy. As with most fishermen, I soon found that I had accumulated a vast assortment of tackle and could barely lift my tackle box. It was about this time that I came into some older tackle which began the main thrust of my collection. At first I collected as many old pieces as I could locate in 2nd hand stores, basements, garage sales and by word-of-mouth. It wasn't long before my basement was bulging at the seams, but with no distinct areas of collecting interest.
At first, I thought I must be the only collector of antique fishing tackle in Canada. Little did I know! When I first joined the National Fishing Lures Collectors Club (N.F.L.C.C.), with members worldwide, there were few enough of us registered in North America. In fact, I was the first member in British Columbia (now there are seven) and am a life member. Within a very short time the number grew to the thousands worldwide.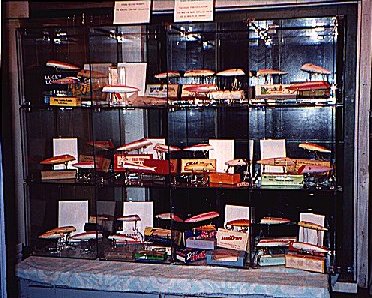 Finding most of the collectors in the U.S. concentrating on rods, reels, bass plugs, etc. I decided to concentrate on what I am most familiar with, the Salmon Plug. I have displayed my collections at major Sportsman shows and other similar events in the Northwest, and am currently putting together a "Pearl Pink" (PPK) display of all brands.
---
FEATURE PLUG
I picked the Derby Plug for my new Collector Card; it has a lot of history. Manufactured in Seattle approx. 1935, it was first produced by C.F. Forcier Mfg. and later by Puget Sound Tackle Co. A wood plug with glass eyes, the jointed model was advertised as the JIFFY CHANGE plug.
The highest price I've seen on this plug was on the eBay auction site, over US$175.00 for the 3" standard model.


Early box

This plug deserves to have its history researched and recorded. It has Martin Pat #2110362 and is similar to both the Velez and West Coast plug. Can you add to the history?
---
THE DEE GEE PLASTIC PLUG
This plug has been described as the earliest plastic plug manufactured in the Pacific Northwest. Manufactured at Alki Beach, WA, circa 1948/50.

My 6 1/2" plug came in a plain green box with a label on the end. The Stubby model comes with a regular size head and small body. A rarer version is the rear string model.
This is my latest addition: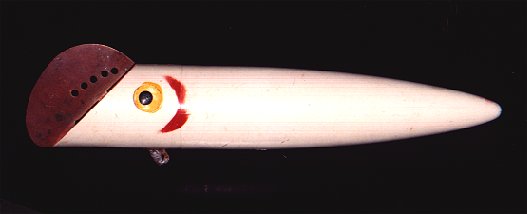 A metal line-tie like a Shoff. The eyes are all inset and painted. Identification marker can be an ink-stamped DEE GEE or deegee, or molded in plastic as a dg in circle and a molded PAT Pending.
---
The lures featured below were part of my Salmon Plug display at Agrifair in Abbotsford, August 1998. I built my display around the article from Jim Lone, Seattle, USA, "Salmon Plugs, The Odd and Unusual".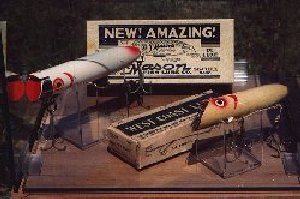 The Mason fish lure (upper left) is a prime example of a plug with a multitude of features, Patent 1952, Seattle, WA. This lure originated from a lady who painted Mason plugs at the factory.
The West Coast lure (lower right in photo above) has an unusual gimmick: a breakaway arrangement whereby after the salmon bit the lure, the plug pulled away from the hooked fish and slid up the line on a circular ring to prevent the salmon from using the plug body for leverage to try to escape. The lure was made in Portland, OR, in the '40s.
The Star Salmon Plug is a totally different type of wooden plug. The maker of the Star lure is unknown at this moment in time, but was manufactured in a small woodworking shop in North Seattle in the late '40s. The boxes are very delicate and difficult to display. If you have any information on the manufacturer, please contact me, Dennis.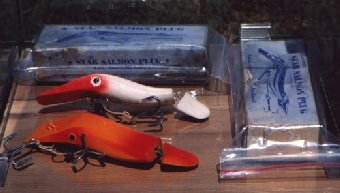 Four Different Salmon Plugs
The plugs in the display below are rare to extremely rare. I have not found boxes for the 2 Nifty lures or for the Ross Reflecto to date.
Ross Reflecto
This plug (top center) was a standard 4 1/2" Alaskan Yellow Cedar body; each side was babbited horizontally to accept a brass or nickel U-shaped shiny insert. Made in 1939, manufacture was stopped when World War II started. About 2,000 Reflecto plugs were made.
Bill's Action Plug
The purpose of Bill's plug was to provide a lure in which 2 treble hooks suspended from the lure rather than connected to the plug. Patent 1951.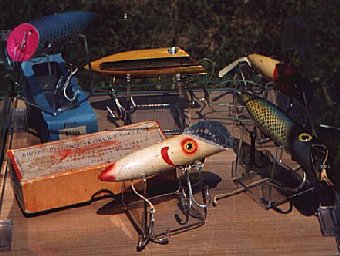 Nifty Plug
When a fish would strike the Nifty, the lure reversed its position end-for-end. This caused the large single hook to gaff the salmon in the lower jaw, and the treble hook at the rear of the plug to nail the fish in the normal manner. Patent 1939.
Shoff Socko King
This plug has unique features which include a large hole-punched fin at the head which could adjust the plug to run at several depths. Another feature is that the plug could flip over backward when it hit an abstruction, making it virtually weedless. Manufactured 1940, Kent, WA.
---
Go Fish!
---

Please contact me (Dennis) if you have any questions or information.

updated April 10, 2010

This page has been accessed
times
Counter by Museum of Counter Art
---
---
Site created and maintained by Betty.
Links updated April 10, 2010