1992 - NEW MEXICO TRIP
About 1951 my grandparents took a road trip which included a visit to the Cliff Dwellings of Mesa Verde in Colorado, USA. I was just a kid at the time and was enthralled by the home movies they took, and could not begin to imagine how people would be able to live in these dwellings. It took me many years, but in late September-early October 1992, I finally took the trip along with my husband and daughter. (I still don't know how they lived in these dwellings!) This was a trip of a lifetime for me, and I was definitely not disappointed!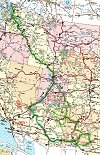 Our route: Southeast from Vancouver, B.C. Canada through Washington, the northeast corner of Oregon, southeast through Idaho, south past most of Salt Lake in Utah then southeast into Colorado. Southwest back into Arizona through Four Corners (meeting of Colorado, Utah, Arizona and New Mexico). Zig-zagging between Arizona and New Mexico a few days before heading south/southeast toward Carlsbad, dipping southwest into Texas and Juarez, Mexico, west to Arizona, northwest to Las Vegas, Nevada, northeast through Utah completing the loop at Great Salt Lake then heading back home.
A few representative photos (click on the thumbnails for full size photos):

Added July 23/01